perlite sand slag remover
slag remover
is to aggregate and bond the molten slag on the surface of the molten iron. At the same time, the perlite sand slag removerr also has cover the molten iron surface to reduce oxidation, reduce the temperature loss of molten iron and prevent the generation of new slag. The performance of the slag remover is directly related to the cleanliness of the molten iron, which in turn affects the quality of the castings. At present, the slag remover produced in China on the market basically uses natural perlite as raw material, and uses the physical properties of natural perlite to remove slag. Most domestic companies in China are using perlite slag remover, and some companies directly use glass as a slag remover, or blend the two. In addition, some slag remover products, such as Japan's Ishikawa and Kaka, have the advantages of fast expansion and high expansion multiples, but their prices are high. The price per ton has reached more than 4,000 yuan, which has exceeded the price of pig iron and scrap. The manufacturing cost of the enterprise cannot be accepted by most foundry enterprises.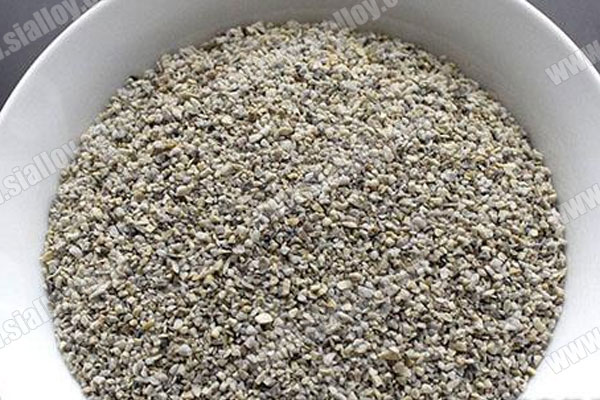 The slag in liquid steel or liquid iron mainly comes from the oxidation of metal and the products of corrosion of furnace lining and lining, reducing casting slag defects, and improving the service life of furnace lining and lining are the subject of smelting and foundry industry. Therefore, it is very important to find a cheap, safe and fast slagging agent. Then the perlite sand slag remover comes. An active
slag remover for foundry
, which uses perlite as the main material. Through the modification of perlite, the melting temperature range of perlite is expanded. At the same time, wollastonite and borax are introduced to reduce the melting point of slag, thereby increasing slag removal and the ability of the agent to absorb slag.
The perlite sand slag remover produced by Anyang Huatuo Metallurgy using the latest technology is a new and efficient slagging agent in the foundry industry. It is an updated product for the mid-end market and has good slag capture, slag removal and heat preservation properties. Spread on the surface of molten iron during use, it can expand rapidly at high temperature to form viscous active material, quickly adsorb molten slag and other impurities, form a plastic slag shell, and purify the molten liquid. perlite sand slag remover can improve the inherent quality of castings, reduce the scrap rate, reduce energy consumption, shorten the operation cycle, and improve the efficiency of steel smelting. Perlite sand slag remover has low thermal conductivity and can play a role in heat preservation.