ferro silicon magnesium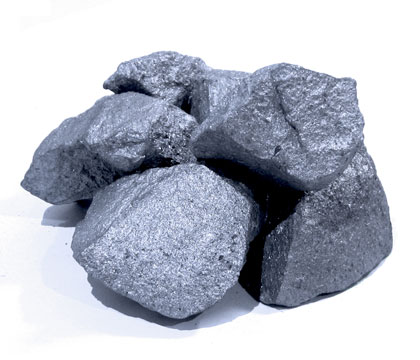 Name: FeSiMg/Ferro Silicon Magnesium


Model: FeSiMg6RE1, FeSiMg7RE2, FeSiMg8RE3


Size: 5-35/30/10-35mm Others


Shape: Lumps, grains


Usage: Casting, Foundry, Spheroidizing, Nodulizing
FeSiMg Alloy, also known as Ferro Silicon Magnesium or Magnesium Ferro Silicon, is a kind of good nodulizer. Sometimes it also contains Rare Earth elements. With strong mechanical strength, the effect of deoxidization and desulfurization is strong. It's widely used in the metallurgic industry. It is one of the most important additives in the production process of spheroidal graphite iron.
The invention of nodulizer is one of the most important milestone in nodular cast iron production history. It helps graphitization of the cast iron. Spheroidized graphite will make its strength far better than gray cast iron, meanwhile its toughness better than malleable cast iron, and keep other properties same with gray pig iron at the same time. Those advantages come from several nodulizing elements including Mg, Ce, Ca etc.
Started from Cerium nodulizer at earliest time. But then people realized that Cerium is very hard to obtain, and it has strict requirement to melted steel. Then Mg spheroidizing agent was found, and evolved from Mg-Ni Alloy, Mg-Cu Alloy, and finally to FeSiMg Alloy Nodulizer. Ferro Silicon Magnesium is easy for mass production, and as nodulizing agent, it expanded the production of Ductile Iron.
The Applications of Ferro Silicon Magnesium:
★
Deoxidizer for steelmaking.
★
Inoculant and Nodulizer for cast iron.
★
Alloying agent.
The Specifications of FeSiMg as Following:
Model
Chemical Composition%
RE
Mg
Ca
Si
Mn
Ti
Fe
FeSiMg6RE1
0.5-2.0
5.0-7.0
1.5-3.0
44.0 max.
1.0 max.
1.0 max.
Balance
FeSiMg7RE3
2.0-4.0
6.0-8.0
2.0-3.5
44.0 max.
1.0 max.
1.0 max.
Balance
FeSiMg8RE3
2.0-4.0
7.0-9.0
2.0-3.5
44.0 max.
1.0 max.
1.0 max.
Balance
FeSiMg8RE5
4.0-6.0
7.0-9.0
3 max.
44.0 max.
1.0 max.
1.0 max.
Balance
FeSiMg10RE7
6.0-8.0
9.0-11.0
3 max.
44.0 max.
1.0 max.
1.0 max.
Balance
FeSiMg9RE9
8.0-10.0
8.0-10.0
3 max.
44.0 max.
1.0 max.
1.0 max.
Balance
FeSiMg8RE18
17.0-20.0
7.0-10.0
3 max.
44.0 max.
1.0 max.
1.0 max.
Balance