various ferroalloy
Ferroalloys is one type of alloy which fused together with one or two or more metal or nonmetal elements. It is not a metal material that can be used directly, but is mainly used as an intermediate raw material for deoxidizer or alloying agent for steel production.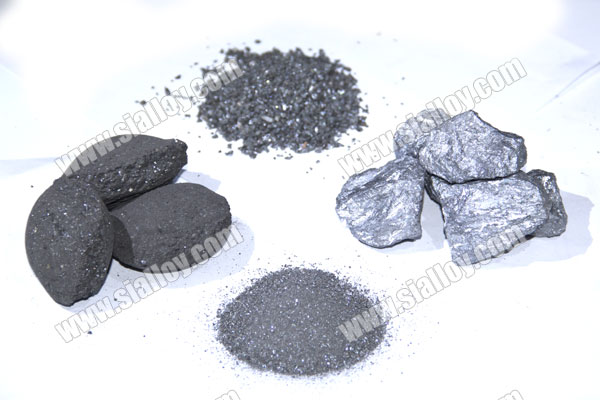 Ferroalloys can just be divided into several types, one is called single ferroalloy, the main types include ferro silicon, ferro manganese, ferro chrome, industry silicon, metal manganese etc; second is the main varieties of composite ferroalloys include ferro silico manganese,calcium silicon, silicon aluminum alloy, silicon aluminum barium alloy etc; third one is nitrided products, generally types are the nitrided ferro manganese and nitrided ferro chrome, it is under high temperature, using the ferro manganese and ferro chrome powder through nitriding to produced. Among all above, the production volume of silicon, manganese, chrome ferroalloys is the largest.
The main used of ferroalloys is as deoxidizer and alloy additives for steel making, it commonly used oxidation methods to remove the carbon, phosphorus and other impurities of molten iron in steel making, though oxidation methods, oxygen is also absorbed in the molten steel, if these oxygen are present in the steel, the performance of the steel will be greatly reduced. So need to add some elements which are stronger binding to oxygen, then reduce the oxygen content in the molten steel, commonly used deoxidizers are manganese, silicon, aluminum etc, these elements are mostly added to the molten steel in the form of iron alloys.Alloys additives are elements or alloys used to adjust the chemical composition of steel to make it alloying, alloy elements can not only reduce the content of impurities in the steel, but also can adjust the chemical composition of the steel. Generally used alloy elements include silicon, manganese,chrome etc, different alloy element with different content will make the steel own different features and uses, such as bearing steel with carbon 0.95%~1.05%, chrome 1.3%~1.65%, silicon 0.15%~0.35% and manganese0.2%~0.4% make it with uniform hardness, good wear resistance and high strength limit, always be used as steel ball for bearing of vehicles, machine tools etc; and for the silicon steel which contain silicon 2.0%~4.5% and carbon less than 0.1% always be used as silicon steel sheet for motors and transformers, except these, there are the high speed tool steel, stainless steel etc with different type and content of alloy elements which show different feature and usages. What is more, ferroalloys can also be used into foundry to improve casting process and performance etc.
It can be seen from the above description that ferroalloys play a very important role in the industrial development. Anyang Huatuo Metallurgy has been specialized in the processing and sales of ferroalloys for more than 20 years and has very experienced technical staff, if you have any related production of technical issues, please leave us your message or send us emails, we will reply or solve your problems at the first time.