graphite electrode scrap
Graphite Electrode Scrap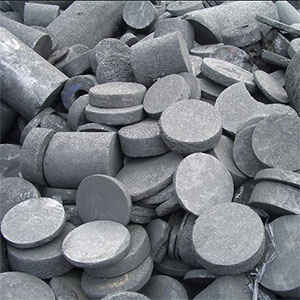 Name: Graphite Electrode Scrap
Model: GPS
Size: 10mm-700mm
Shape:Electrode Block
Usage: Graphite Electrode Scrap as Carbon Raiser for Steel Industry
Graphite Electrode Scrap also can be called as Fragments of Electrode or Graphite Powder. It comes from breaking and turning electrodes into powder. It has same components with graphitized electrode with chemical stability, also one kind of carbon raiser..
Graphite electrode scrap is also called low sulphur low nitrogen carburizer, carbon additive, mainly used as carbon additive in steel making and iron casting to increase carbon content in iron and steel.
Graphite electrode scrap can be used as carbon raiser to produce high quality steel, cast iron and alloy. It also can be used in plastic and rubber as an additive, and used as carburizer in metallurgy industry, reducer in chemical industry, foundry modifier and fireproof etc.