silicon carbon alloy briquette
The silicon carbon alloy briquette is that silicon carbon alloy which is crushed into slag by a professional crushing device and is pressed by a raw material ratio using a briquette press machine. Silicon carbon alloy is by-product of smelting silicon metal. So many steel-making manufacturers often purchase silicon carbon alloy briquettes as a reserve deoxidizer instead of ferro silicon.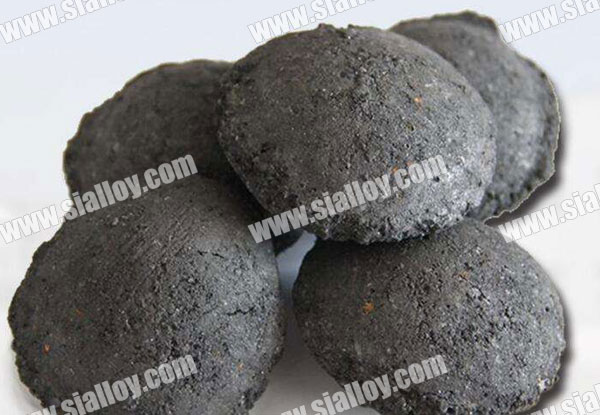 Silicon carbon alloy ball with high cost-effective is favored by many steel-making manufacturers. Silicon carbon alloy briquette is cost-effective, because it can mainly be used instead of expensive ferro silicon. The silicon carbon alloy ball is rich in silicon content inside. Compared with ferro silicon, the silicon content of silicon carbon alloy briquette is almost equal, the price is much lower than ferro silicon. Therefore, under the current situation of ferro silicon prices soaring, many manufacturers have begun to purchase silicon-carbon alloy briquette as smelting materials, which can be used to produce carbon steel to improve the purity of molten steel. Because the price is cheaper than ferrosilicon, the silicon carbon alloy briquette can be better to reduce the smelting cost and effectively improve the efficiency of the manufacturers. Therefore, the silicon carbon alloy ball is very popular among domestic manufacturers.
Silicon carbon alloy briquette wholesale with the advantages is the common purchasing forms for many manufacturers. Steel-making manufacturers can get more discounts by purchasing silicon carbon alloy briquette in large quantities. When quality is not discounted, it can save hundreds of tons, compared to retail and wholesale. And it can also get professional pre-sales and after-sales service. If you have any problems during use, you can consult Huatuo Metallurgy, silicon carbon alloy briquette manufacturer. We will provide professional knowledge to help you. In terms of packing, Huatuo metallurgy will use new jumbo packing to ensure safety of cargo transportation for different customers.
Established in 2001, Huatuo Metallurgy Co., LTD. Is a professional manufacturer and supplier of ferro alloys as well as metallurgical materials. We own professional facilities for the production of ferro alloys and metallurgical materials. Welcome to consult and inquiry us info@sialloy.com/www.sialloy.com