ferro chrome slag supplier
Ferro chrome slag is a smelting slag during producing ferro chrome. Ferro chrome slag contains strong carcinogens, which is the main cause of environmental pollution. It is an efficient and environmentally friendly project to recycle effectively and treat the environment and develop secondary resources. In fact, ferro chrome has many applications in different lines. Today, Anyang huatuo metallurgy, ferro chrome slag supplier, will introduce the applications of ferro chrome slag.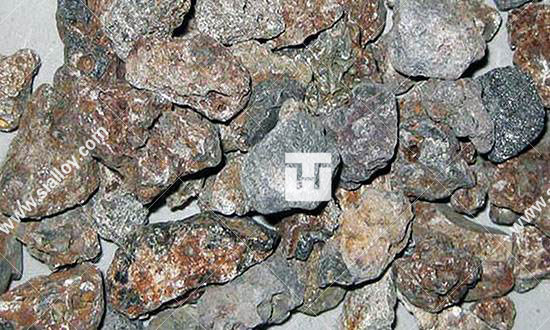 Sintered bricks. The ferro chrome slag is dried and pulverized, and the ingredients are mixed according to ratio of 40% ferro chrome slag powder and 60% of clay, then they are billed and baked. In high temperature and strong reducing environment, hexavalent chromium is reduced to trivalent chromium which is insoluble in water, eliminating highly toxic. The bricks can meet construction requirements.
Manufacturing cement. With ferro chrome slag, limestone, clay and other raw materials in accordance with ordinary Portland cement, these raw materials can be fired cement clinker to make cement. The chromium residue after carbon reduction is the same as the blast furnace slag, the converter steel slag and the Portland cement clinker. By adding about 5% gypsum, it is also possible to produce less clinker steel slag cement.
Production of chromium slag cast stone. Mix 30% chromium slag, 25% silica sand(containing SiO2>95%),45% flue ash, 3% to 5% iron oxide scale(rolled steel skin), pulverize and melt in a 1500℃ tank kiln at 1300℃ casting, crystallization, annealing and slow cooling is the finished product. The simulated diabase stone composition is an excellent acid and corrosion resistant material.
Ferro chrome slag is used as glass colorant instead of chromite. Chromium ore fines are commonly used as colorants in the manufacture of green glass by utilizing the optical properties of trivalent chromium ions in glass. The ferro chrome slag contains a part of unreacted chrome ore and hexavalent chromium. The high temperature is favorable for the conversion of hexavalent chromium to trivalent chromium, completely detoxification and the obtained product has bright green color. The ferro chrome slag is preferably added in an amount of 3% to 5%.
Ferro chrome slag is used as steel making flux instead of dolomite and limestone. The content of CaO and MgO in the chromium slag is similar to that in the dolomite and limestone used in steel making and they can replace the dolomite and limestone steel making.
Anyang Huatuo Metallurgy, professional ferro chrome slag supplier and exporter, long-term supply ferro chrome slag, we have over 10 years' experience in supplying various models of FeCr slag as well as we equipped with professional workers in each production line for ferro chrome slag. Welcome to consult and cooperate!