SiAlBaCa alloy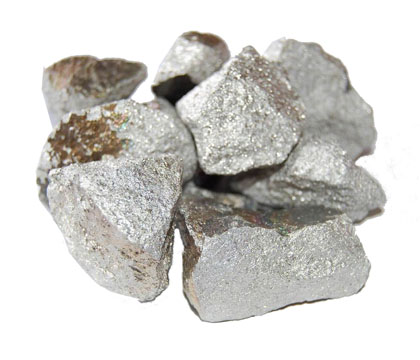 Name: SiAlBaCa Alloy


Model: Ba0-30, Ca0-15, Si30-60, Al0-16


Size: 0.2-1.0mm,1-3mm,3-8mm,8-15mm, Others


Shape: Powder, Grains, Lumps


Usage: Deoxidizer, Desulfurizer, Inoculant for casting
Silicon Aluminum Barium Calcium is a new type of deoxidizer and desulfurizer. It can make oxygen in the steel the lowest and at the same time form complex oxide which contains Si, Al, Ba, Ba and Ca is easy to float in steel liquid, can purify steel liquid and improve the impact resistance toughness and processing properties.
The silicon alloy is not only capable of deoxidation, but also easy to float, easy to discharge, and can improve the properties of steel, and improve the plasticity, impact toughness and fluidity of steel. Aluminum is a strong deoxidizing element, which have strong reaction with oxgyen and nitrogen, widely used for most types of steel. Calcium, in particular, has a strong affinity not only with oxygen, but also with sulfur and nitrogen. Therefore, Si Ca alloy is an ideal Compound Deoxidizer and desulfurizer.
SiAlBaCa Alloy were produced by silica, bauxite and coke. Mix those raw materials and put them into submerged arc furnace. Heat the materials then put quick lime and coke to encourage the formation of SiCaAl, after that put barium ore along with coke, to encourage the formation of SiAlBaCa Alloy. During the production progress, it is very important to control the proportion of Al2O3/SiO2, CaO/BaO, (CaO十BaO)/Sio2 and adding amount of coke. Furnace musk keep high power and low voltage, so as to keep high temperature inside it.
The Specifications of SiAlBaCa alloy as Following:
Model
Ca
(Min)
Ba
(Min)
S
(Min)
Al
(Min)
Mn
(Max)
C
(Max)
P
(Max)
S
(Max)
Al16Ba9Ca12Si30
12.0
9.0
30.0
16.0
0.4
0.5
0.04
0.05
Al12Ba9Ca2Si35
9.0
9.0
35.0
12.0
0.4
0.5
0.04
0.05
Al18Ba12Ca6Si40
6.0
12.0
40.0
8.0
0.4
0.5
0.04
0.05
Al18Ba15Ca6Si40
6.0
15.0
40.0
8.0
0.4
0.5
0.04
0.05
Al16Ba18Ca6Si40
6.0
18.0
40.0
6.0
0.4
0.5
0.04
0.05