ladle argon stirring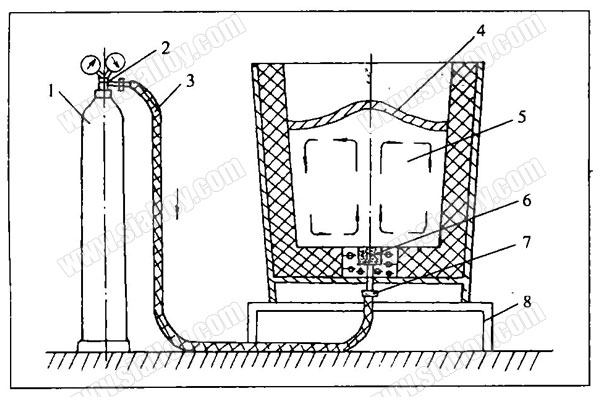 Argon gas is an inert gas. The argon gas blown into the molten steel neither participates in chemical reactions nor dissolves in the molten steel. Pure argon contains very little hydrogen, nitrogen, oxygen and other gases, which can be considered blown into steel. The argon bubble in the liquid is like a small vacuum chamber for the gas dissolved in the molten steel, and the partial pressure of other gases in this small bubble is almost equal to zero. At a certain temperature, the solubility of a gas is proportional to the square root of the partial pressure of the gas in the gas phase. The gas in the steel continuously diffuses into the argon gas bubbles, and the argon gas bubbles absorb hydrogen and oxygen, and finally are discharged from the molten steel.
If the molten steel is not completely deoxidized and there is a considerable amount of dissolved oxygen in the molten steel, then blowing argon can also remove part of the dissolved oxygen in the steel, and play a role in deoxidation and decarburization. If a
deoxidizer
or desulfurizer such as lime or fluorite is added, and argon is blown in at a high speed at the same time, the reaction will be intensified and the desulfurization effect can also be achieved. Before argon is blown, the composition and temperature of the molten steel in the upper, middle and lower part of the ladle are different. The process of argon bubbles rising up and down pushes the molten steel up and down, stirring the molten steel, and promoting the uniform composition and temperature of the molten steel. Stirring also promotes the floating of inclusions and has the effect of removing slag.
In short, the main function of ladle argon blowing is to use argon bubbles to clean the molten steel and reduce the hydrogen, oxygen, and nitrogen content of the molten steel; use the argon stirring process to remove inclusions, uniform the temperature and composition of the molten steel, reduce segregation, and improve the deoxidizer And the yield of metal additives; use the protective effect of argon to avoid or reduce the secondary oxidation of molten steel; use the characteristics of argon to enhance the reaction between the desulfurizer and molten steel.